User Profile allows your members to gain access to their member information and history, including membership profile (name, contact details and company details), video activity including continuing education and sales orders history.
Turn On User Profile:
Browse to Layout > Video Library Settings > Video Library
Advanced Settings
Enable User Profile
Save
Your members will now be able to access the user profile menu from the profile icon on the video library main menu: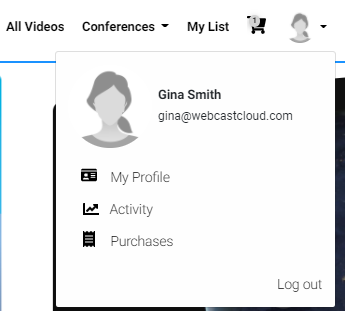 User Profile Information
The following tabs are available from the User Profile page:
Profile Information: Full Name, Email, Job Title, Member Number, Company. If the member is setup using an SSO Integration, these fields will be un-editable by the member.

User Profile image (that can be uploaded by the member)

Video Activity: includes a list view of video activity, including video title, number of views, last watched, duration watched, percentage watched.

Continuing Education Activity: If the video activity has Continuing Education Points, a marker will be displayed and the members results on the education completed.

Company Activity: A Company Manager can have access to see video activity from members within their organization. Learn more about Company Manager role
Purchases: A list of recent purchases made from the video library, including access to invoices.